I AM A PROMISE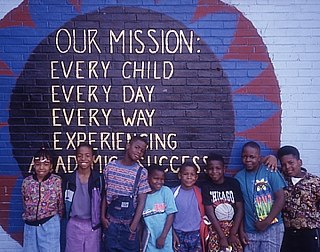 I AM A PROMISE is a documentary portrait of children growing up outside the American dream where hope for their future survives in their education.
At Stanton Elementary School in North Philadelphia, a troubled inner-city neighborhood, 90% of the students live below the poverty line and come from single-parent homes. The school has 725 African-American pupils, from Head Start through the fifth grade, who attempt with varying degrees of success to defy poverty in a neighborhood blighted with crack houses and violence in order to receive the most basic education. Their fears, anger and isolation as well as dreams and joys come through poignantly as this cinema verite film allows the children to speak for themselves. Filmed over the course of one year, the program includes dramatic profiles of young children struggling to succeed despite their many family difficulties including crack addiction, foster care, and homelessness.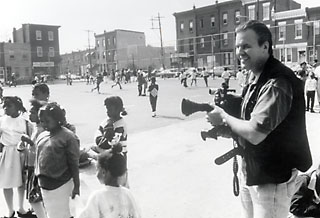 I AM A PROMISE also tells the powerful story of a devoted principal, Deanna Burney, who is determined to bring equality in education to a school under funded and understaffed. She works tirelessly to create a cheerful climate for learning for both students and teachers; introduces innovative programs with computer technology and an experimental all-male first grade class; and receives the caring support of families.
I AM A PROMISE is astoundingly relevant today and imparts a poignantly captivating series of vignettes concerning children growing up outside the American dream, echoing current urban-education issues in our country's ongoing political discussions on public education.
> Read the speech given by Alan Raymond at the Academy of Arts and Sciences
Produced by Alan Raymond and Susan Raymond
Directed and Reported by Susan Raymond
Photographed and Edited by Alan Raymond
> Buy the DVD
Press:
"With their shelf of award-winning credits, Susan and Alan Raymond have earned their place among American's finest documentarians." —Variety

"I Am A Promise is an exceptional documentary. It is as emotionally involving as it is socially conscientious. A great film." —Tom Shales, Washington Post

"I Am A Promise is angry yet objective, hopeful without false optimism. Parents, teachers, students can all gain from watching this." —USA TODAY

"A series of broken promises hovers over every frame of this chilling examination of an inner city elementary school: the promise of safety, the promise of education, the promise of childhood and, ultimately, the promise of hope." —Variety
Awards:
I AM A PROMISE has been honored with the following awards:

Academy Award for Best Documentary Feature in 1993
Emmy Award for Outstanding Information Special
Alfred I. duPont Award
George Foster Peabody Award for Excellence in Broadcast Journalism
Robert F. Kennedy Journalism Award for Outstanding Coverage of the Problems of the Disadvantaged