Introduction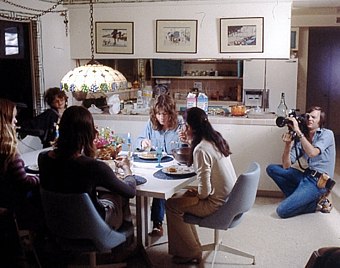 In 1971 filmmakers Alan and Susan Raymond accepted an offer to direct a documentary film about one family. They didn't know exactly how long the production would be nor could they know what events they would document. The journey they started in 1971 would change their lives forever and create television history.
An American Family, a 12-hour cinema verite documentary series broadcast on PBS in the winter of 1973, has become a television landmark. TV Guide named it one of the "50 Greatest TV Programs Ever Made"" and identified the series to be the birth of Reality TV.
In 1983, the Raymonds would produce American Family Revisited for HBO. The Raymonds and the Louds continued to stay close friends and decided to make another film together. The Louds would be able to reflect upon their experiences of making the original series and describe how they became media celebrities.
In 2001, Lance Loud would call his friends Alan and Susan Raymond to return to make one more film. As Lance entered a hospice for hepatitis C/HIV co-infection, he wanted to have closure on the series and make the final episode of An American Family. Lance Loud! A Death in An American Family was broadcast on PBS in January 2003 commemorating the 30th anniversary of the series.
In 2011 HBO Films presents Cinema Verite starring Diane Lane, Tim Robbins and James Gandolfini. The feature film dramatizes the behind-the-scenes story of the making of the series. Alan and Susan were creative consultants to this project and are portrayed by Shanna Collins and Patrick Fugit.
How It All Began …
WNET Producer Craig Gilbert and the Raymonds had previously worked together on a documentary profile on Christie Brown, an Irish poet and painter afflicted with cerebral palsy. The program blended documentary footage of Christie directed by the Raymonds with scripted narrative scenes written and directed by Gilbert from Christy's book. The Triumph of Christy Brown received a national EMMY nomination for Outstanding Cultural Documentary in 1971.
For his next project Gilbert decided to explore the changing values of the American family. After searching for a family that would agree to be filmed, Gilbert chose the William Loud family of Santa Barbara, California. While Gilbert remained in New York, he assigned the Raymonds to assume direction of filming this large family with five teenage children and to document their daily lives.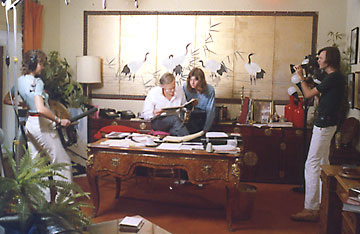 Alan and Susan Raymond would eventually spend seven months filming the daily lives of the Loud family. Alan was familiar with a style of filmmaking called cinema verite that he observed while working at Drew Associates. As an editing assistant, he viewed hours of documentary footage shot by Richard Leacock, D.A. Pennebaker and Albert and David Maysles. Alan came to appreciate the strong dramatic storylines that emerged and chose to use this film style on the new family project.
The most important aspect of cinema verite filmmaking is to create an atmosphere in which the subjects of the film feel as comfortable as possible and allow the natural story to unfold. Alan and Susan and the entire seven member Loud family managed to create a bond of mutual trust that allowed the family to feel free to be themselves on camera. Alan and Susan eventually filmed over 300 hours of 16mm footage by following the family's active life at home, at work, at school, on vacation and traveling throughout the country. For their contribution as directors, the Raymonds would receive credit as The Filmmakers of An American Family.
This cinema verite footage was then shaped by Producer Craig Gilbert and a staff of editors into the 12-hour PBS documentary series An American Family and broadcast in the winter of 1973.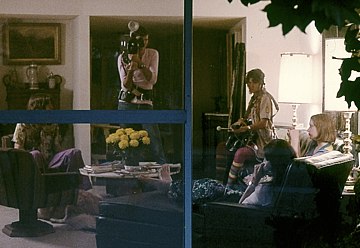 The dramatic unfolding of the parents' separation and eventual divorce took center stage and created a national controversy. Ten million viewers watched every week as this California family lived their daily lives in front of a camera. Never before had any subjects of documentary films experienced such a lengthy time on camera. And, for that matter, has it ever happened again.
A media storm enveloped the Loud family as they appeared on talk shows, magazine covers and eventually variety TV shows as well. The Loud family became America's first media celebrities — famous for just being themselves.
Dr. Margaret Mead would call the series "as important as the invention of the novel." The series would forever alter the image of the American family on television. No longer would television family dramas be similar to The Brady Bunch or Ozzie and Harriet. Now these dramas would have a more realistic view of family dynamics. Even Matt Groenig, creator of The Simpsons, has attributed to be influenced by An American Family. The series also stands as a document of American family life at the beginning of the 1970s Me Decade. This decade brought forth women's liberation, gay liberation and a divorce rate that shot up to 50% of all marriages resulting in divorce.
The landscape of television was forever changed. The Loud family was forever changed by the harsh media criticism but today still remain a very close-knit family. Lance's final wish during his stay at the hospice was a request for his parents to re-unite. Today Bill and Pat Loud live together closely surrounded by their adult children.
Alan and Susan Raymond were also dramatically changed by this experience and have applied lessons learned to all of their later work. They continue to produce and direct cinema verite documentaries and have been honored with twelve Emmy Awards and an Academy Award for Best Feature Documentary.