He signed his name LANCE LOUD! in block capital letters punctuated by an exclamation point. He was the first openly gay person on television and the first reality TV star just for being himself. He was an inspiration to legions of young people, both gay and straight, to feel free to be who they were and who they wanted to be. His life was a comic tragedy that spoke volumes about pop culture, sexuality, fame and family life.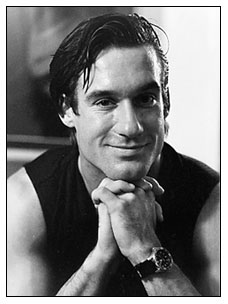 In 1971 Lance and his family became the subjects of what would become the most influential documentary series in television history. Academy Award winning filmmakers Alan and Susan Raymond recorded the daily life of this one American family for seven months and witnessed pivotal moments in their lives. This filmmaking experience would eventually affect the Loud family profoundly and create a lasting friendship for the filmmakers. 1973 An American Family was aired on PBS as a 12 hour documentary series that profiled the real life drama of the Loud family. Marital tensions between the parents led to divorce and Lance, the eldest son, revealed his homosexuality. While the press harshly attacked the family, the series became an instant success. Lance received an onslaught of anti-gay reviews but a faithful weekly audience saw him as a teenage rebel. Today An American Family has been recognized by TV Guide among The 50 Greatest Shows Of All Time and the first reality tv program.

Lance died on December 22, 2001, at age 50, Lance died of liver failure caused by a hepatitis C and HIV co-infection. At Lance's request, his friends and original series filmmakers Alan and Susan Raymond returned to film "the final episode" of An American Family as Lance wanted to have closure on a pivotal moment in his family's life.

Lance wrote to the filmmakers his reasons for making a final film portrait:

". . . F. Scott Fitzgerald once said that in America there are no second acts....I must say that I came up with this all on my own. There are plenty of reasons to be happy and proud of us Louds instead of being sad of my demise. Things have changed. And for the nay sayers that claimed American Family revealed us to be vacant, unloving, uncaring morons of the materialistic 60's, this image will be proven wrong when Mom and Dad get re-married around the time of Grant's wedding....Make no mistake...This is not to emphasize the sadness of my demise but rather emphasize the love of my family and friends. I also stand as a role model as to what not to do in one's life." Lance Loud - October 2001

Throughout his life Lance remained brutally honest about himself and all the life choices he made. He reflects upon his days with Andy Warhol, his band The Mumps, a career as a writer and the experience of being the first reality tv star. Lance also spent years struggling to find himself and wanted his story to be a cautionary tale. He saw himself as a role model of what not to do in one's life. This film chronicles a thirty year journey between the Loud family and the filmmakers. It is the story of one tragic hero who became a gay icon for his generation and changed television history.


---
---