Due in part from his celebrity status on AN AMERICAN FAMILY, Lance met Andy Warhol, his boyhood idol. As an isolated suburban teenage boy Lance embraced the pop culture of his generation and became fascinated with Warhol's films such as
Chelsea Girls
. He started a correspondence at age 16 with Warhol that would lead to a lifelong friendship. Warhol would often return written responses or, on occasion, telephone Lance at his home in Santa Barbara.
Lance wrote an article reflecting on those days.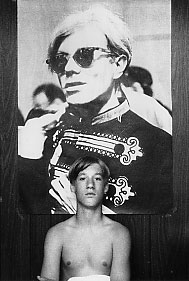 The following is an unpublished article written by Lance Loud in 1973 recounting his childhood fascination with Andy Warhol and their early correspondence. Property of Video Vérité Archives LLC
©2002
Andy Warhol entered into my life when I was twelve years old. I had freshly moved into a home in a residential area of Santa Barbara. At the time I had no friends, had no hobbies, had no goals. I would go to the movies all the time and sit thru them twice. I'd walk back home and tell anyone who came in thru the front door how the movie I had most recently seen had ended, usually acting it out graphically and always getting very near tears by the time I would finish.
Lance speaks candidly about his relationship with Andy Warhol and how it developed over the years from a father figure to friend. Their relationship reflects the confluence of American's greatest pop artist and America's most charismatic media star.
Lance became a contributing writer to Warhol's INTERVIEW MAGAZINE and wrote a regular column called LOUDSPEAKER reviewing music and the New York rock scene of the seventies. Lance interviewed a collection of rock stars from The Sparks and Alice Cooper to Donna Summer and Annette Funicello. Lance continued to write for Interview Magazine from 1975 until 1990. As a personal favor, Andy Warhol appeared in a student film produced by Lance entitled "X Famous" which is exclusive to this film.