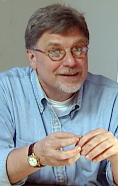 Reverend Day was appointed by Bishop Weaver to be the Senior Pastor of the First United Methodist of Germantown and commenced his ministry on July 1, 2001.
Conflict arises upon the arrival of the Rev. Day, who replaced a progressive pastor that served for 37 years. The congregation must confront the realities of a divided and dwindling membership and subsequent financial shortfall as they clash over Rev. Day's style of leadership, changes in the order of worship and a perceived shift to a more conservative ministry.
Biography Reverend Fred Day served for six years as District Superintendent of the Asbury-Anthracite District of the Eastern Pennsylvania Conference. He was Pastor of the Mount Pocono United Methodist Church in Mount Pocono, PA, and Pastor of the Rehoboth and Central United Methodist Churches in the Frankford section of Philadelphia. Day was ordained a Deacon in 1974 and an Elder in 1976. He is currently taking Ph.D. studies in Liturgics from Drew University. Rev. Day received his Master of Divinity from Gordon Conwell Theological Seminary and his Bachelor of Science from Houghton College.

---
Copyright © 2004 Video Vérité. All rights reserved