Filmmakers' Eyewitness Report on First Clergy Trial






Report by Alan and Susan Raymond
On a day with Biblical overtones of a dark sky full of ominous clouds and tree limbs crashing across roads causing a two-hour power outage, Rev. Beth Stroud gathered with her family and supporters to face a clergy trial to determine her status as an ordained lesbian minister.
Held at the Methodist Camp Innabah near Pottstown, Pa. with the gymnasium turned into a courtroom, the open clergy trial drew national media attention to the debate over gays in the clergy. Methodist gay rights supporters have successfully petitioned for changes in their denomination's laws over the past thirty years. Methodist Law now declares that homosexuals are "persons of sacred worth" and are welcomed as members of the church, but delegates to the United Methodist Church's General Conference have repeatedly voted to ban openly gay ministers. Rev. Stroud announced to her congregation, the First United Methodist Church of Germantown, that she was a self-avowed, practicing homosexual in a sermon nearly 18 months prior to the trial.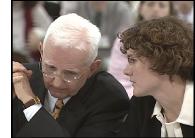 On the first day of the trial Rev. Dennis Williams , attorney for the defense, planned for six witnesses to argue that the church's ban on gay clergy violates its own principles as set forth by John Wesley's 25 Articles of Religion of the Methodist (published in 1784 and the founding doctrine of the United Methodist Church.)
The presiding Judge Bishop Joseph H. Yeakel dismissed this testimony in preliminary hearings as "not relevant to this case." Many supporters of Rev. Stroud were shocked by Bishop Yeakel's decision in view of his previous vote at the 1996 United Methodist General Conference in which he was one of 15 bishops who tried to change church doctrine to allow self-avowed homosexuals to be ordained.
Rev. Tom Hall, a former member of Assemblies of God and current pastor of the Crossroads Methodist Church, was the lead prosecutor. He called his first witness, Bishop Peter Weaver, president of the Council of Bishops in the New England Conference of The United Methodist Church. In his testimony Bishop Weaver described the complaint he filed against Rev. Stroud when he was head of the Eastern Pennsylvania United Methodist Conference. Bishop Weaver told of meeting with Rev. Stroud many times in discernment over her decision to challenge the church's positions. He also commented on her integrity regarding such a deeply held conviction.
Rev. Hall then called Rev. Beth Stroud as his second witness. Rev. Stroud testified and with great clarity shared her reasons for entering the ministry and described how the ordination process unexpectedly did not ask her to state her sexual identity. She said she was prepared, if asked, to reveal the truth at that time. Rev. Hall questioned Rev. Stroud explicitly on her sexual relationship with partner Chris Paige. Rev. Hall asked for the jury to strictly follow the denomination's authority to hold ministers accountable to the sacred trust that they have agreed upon as ordained ministers.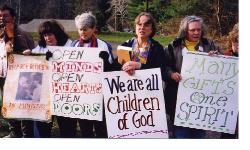 During the two-day trial more than one hundred supporters from The First United Methodist Church of Germantown, Reconciling Ministries Network, clergy and friends came to support Rev. Stroud. They gathered outside the courtroom each day holding signs praising her and singing hymns.
On the second day Rev. Williams called two witnesses to testify in support of Rev. Stroud: Bishop John Schol, head of the Baltimore/Washington, D.C. United Methodist Conference, added testimony that Rev. Stroud was one of the best preachers he had ever heard. While they served together at the West Chester United Methodist Church, Rev. Stroud had revealed to him that she was a lesbian but not in a committed relationship. Rev. Fred Day, of The First United Methodist Church of Germantown, was the second witness called to testify and he strongly put forth his belief "that even the testimony of Scripture is far from clear on this subject. We have more muddle than clarity." Prosecutor Rev. Hall asked to strike these remarks. Judge Yeakel did not agree, but instead instructed the jury that "constitutional issues are not before this court."
---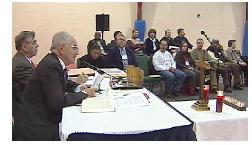 After a two-hour adjournment, a jury of thirteen Methodist ministers voted 12 to 1 to find Rev. Beth Stroud guilty of violating the United Methodist Church's ban on self-avowed practicing homosexuals in the clergy. This came as no surprise as Rev. Stroud openly admitted this when she first contacted Bishop Weaver and announced her sexual identity to her congregation.
Bishop Yeakel then proceeded to the penalty phase of the trial. Rev. Williams pleaded his case that "the heart of the issue is whether all United Methodists, regardless of status, are to be afforded equal rights and equal opportunities." He asked the jury "to fix a lesser penalty and allow Rev. Stroud to continue her ministry." Rev. Hall concluded his case by addressing the jury "to hold a good pastor accountable to the standard with which we all live" under the Methodist Book of Discipline. He demanded the removal of her ministerial credentials.
The jury spent a suspenseful four hours deliberating over the penalty, giving everyone pause for speculation. Eventually they voted 7 to 6 to revoke Rev. Stroud's credentials as a minister.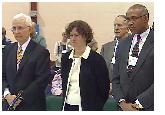 As Rev. Stroud stood to hear the verdict, supporters could be heard singing softly. Then in an emotional and unexpected response to the guilty verdict, Rev. Stroud, in a grace-filled manner, walked up to and individually embraced each juror, Judge Bishop Yeakel and Prosecutor Rev. Tom Hall. Supporters encircled the entire courtroom of jurors, family and media reporters while singing "We are Gentle Angry People Singing for Our Lives."
In a press conference after the trial Rev. Hall made a statement: "The last two days has been a very long and painful two days...We believe that church law is absolutely clear. The jury came to the proper decision in this place and at this time in our history together."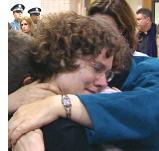 Several participants also spoke at the press conference including Rev. Day who said, "I am frustrated with the judicial council decision...in favor of the narrowest and strictest interpretation of Discipline alone...This is not the United Methodist Church of our past heritage or best future." Rev. Day also shared a remark allegedly made to him by Bishop Yeakel, "The day will come when the church will apologize to Beth for this decision."
Rev. Stroud stated, "I am hopeful that in time, and through God's spirit, the United Methodist Church will change its Discipline ... As I embraced each juror, I felt a lot of pain and compassion."

Bishop Joseph H. Yeakel was the judge who presided over Rev. Stroud's trial. Bishop Yeakel was ordained in 1952 and given the title Bishop in 1972. He served as President of the General Board of Church and Society from 1976 to 1980 and 1992 to 1996. He was also President of the Council of Bishops from 1992 to 1993. Bishop Yeakel retired in September of 1996.
Rev. Thomas Hall was the lead prosecutor in the Rev. Stroud trial. He is currently pastor of the Crossroads Church in Pottstown, PA, a start-up congregation that formed two years ago. He recently left the Assemblies of God denomination to join the United Methodist Church.
Reverend Dr. Dennis Williams was lead counsel for Rev. Stroud. Rev. Williams was a former District Superintendent and Dean of Cabinet of the Eastern Pennsylvania Conference of the United Methodist. He is now retired.
Bishop Peter D. Weaver, Bishop of the Northeastern Jurisdiction, filed the original complaint against Rev. Stroud in 2003. At that time he was Bishop of the Eastern Pennsylvania United Methodist Conference.
Bishop John R. Schol testified on behalf of Rev. Stroud at her clergy trial. He is currently leader of the Baltimore-Washington United Methodist Conference. He was formerly pastor of the West Chester United Methodist Church where he served with Rev. Stroud.
Rev. Fred Day testified for Rev. Stroud. He is currently Senior Pastor at the First United Methodist Church of Germantown. His previous appointments include Senior Pastor at the Mount Pocono United Methodist Church and District Superintendent of the Asbury-Anthracite District of the Eastern Pennsylvania Conference.

About Rev. Stroud's decision to annouce her sexual identity
Her "Walking In The Light" sermon (including video excerpt)
Bishop Weaver's interview about Rev. Stroud's decision
The United Methodist Book of Discipline's stance on homosexuality
Essay by Jamie Stroud, Ph.D. (Rev. Stroud's mother)
Additional links for gay, bisexual, lesbian & transgender rights activism
Visit Beth Stroud's own website (bethstroud.info)
---